Autumn has a lot going for it here in Vermont.  The explosion of foliage, the return of favorite sweaters from the confines of the closet, and the celebration of Vermont's agricultural bounty.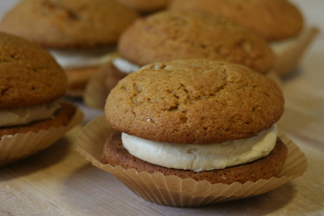 Here at the bakery, we absolutely love baking with pumpkin and local apples.  So please stop by and enjoy the season with us!  We'll have a changing selection of baked goods like our popular Pumpkin Ginger Whoopie Pies, Apple Turnovers, Apple Upside Down Cake, and a lot of other fun treats.  Reserve by calling us at 540-0060!
And join us for Eat Local Week 2013, October 7-12, when we'll feature these beauties, Apple Mountains.  A whole local apple, filled with butter and maple sugar, wrapped in a flaky crust and baked to perfection.  It's another of our heirloom recipes, created by Jodi's grandmother, and enjoyed by her family for decades.