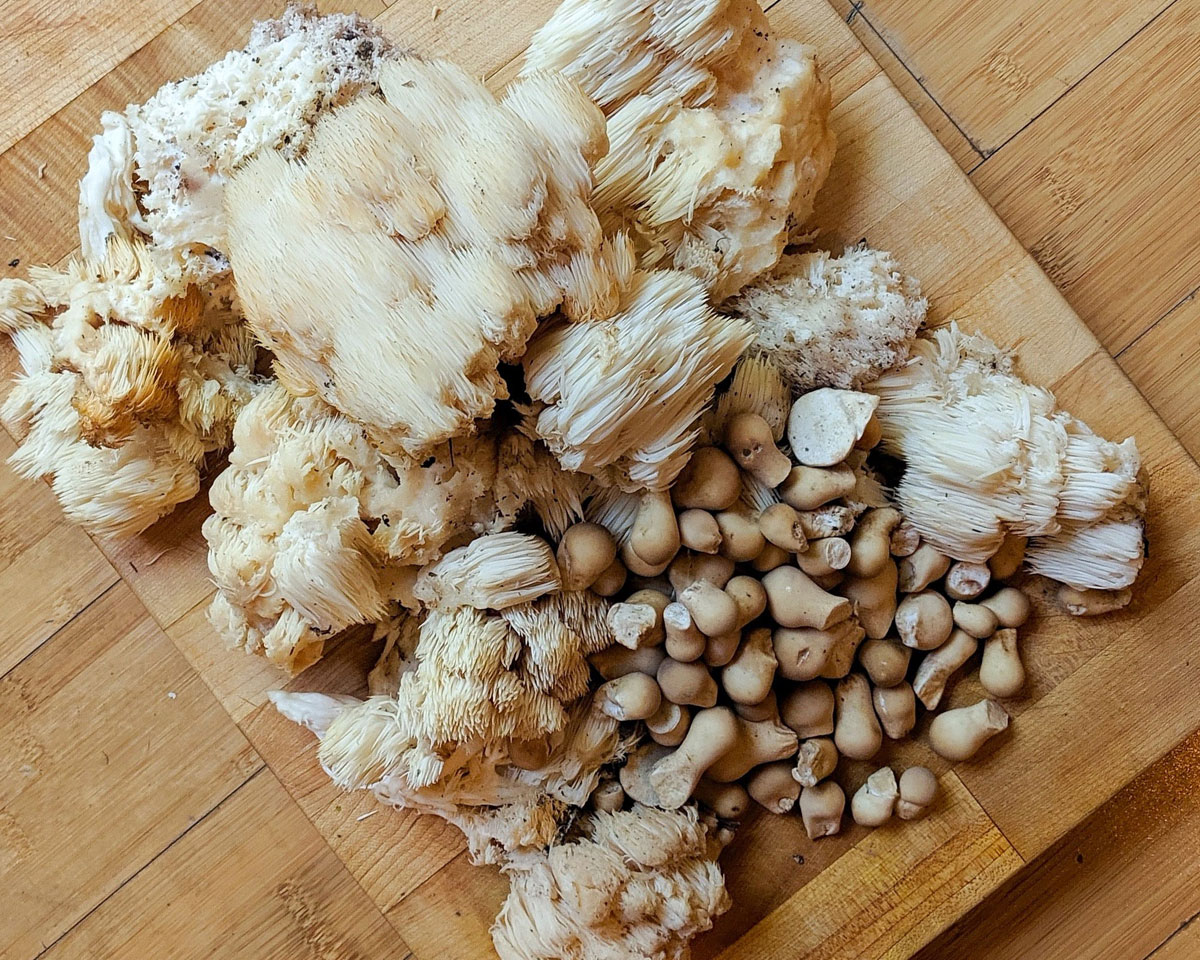 Mushroom Foraging and Mushroom Toast with Nutritional Yeast Gravy
"If you don't see any mushrooms, just stop, stand still, and look."
I remembered this advice from an experienced forager as I brushed off the frustration of an empty-handed foray into a patch of woods in Hinesburg with Phil last week. I took a pause, softened my gaze, and looked around the forest floor. Almost immediately a log, lush with fresh pear-shaped puffballs, appeared before my eyes. I bent down and pinched one to check its freshness. Yes, perfect. Just then, Phil called out from across the trail to let me know he found a Lion's Mane — an elusive mushroom that has the texture and flavor of seafood, specifically scallops and crab.  In the past year of foraging, we had only found one Lion's Mane, so this was a treat. By the time we left the forest, we had gathered over 10 pounds of fresh, wild mushrooms. It was a good day.
I love to cook with mushrooms for many reasons. They're nutritious, have great anti-inflammatory properties, impart great umami flavors into any dish, and pair with just about any other ingredient. We got home from our hunt, and I got to work with the puffballs. A simple sauté with olive oil, garlic, and fresh rosemary was all they needed. That, with a nutritional yeast gravy over August First toast? Heaven on a plate. The Lion's Mane was a bit more involved. I knew I wanted to make something special, so I followed a classic crab cake recipe, but subbed the shredded mushrooms for the crab. I bumped up the spice level, and made my own bread crumbs from August First rolls. Paired with a simple Sriracha mayo, they made for a fun weekend dinner.
Mushroom Toast with Nutritional Yeast Gravy
*Note: Phil and I have done extensive research to learn about mushroom foraging. Please use commercial mushrooms in this recipe, unless you are an experienced forager!
Ingredients
For the mushrooms
1/4 cup olive oil
1 pound mushrooms, coarsely chopped (we recommend Baby Bellas)
2 garlic cloves, minced
2 tsp chopped fresh rosemary
Salt and freshly ground pepper, to taste
For the nutritional yeast gravy
1/2 cup nutritional yeast
1/4 cup all purpose flour
1/3 cup olive oil
1 3/4 cups water
3 tbsp soy sauce
1/2 tsp mustard
1/4 tsp sriracha
1/2 tsp freshly ground black pepper
Salt, to taste
Directions
Heat olive oil in a large skillet over medium heat. Add garlic and mushrooms, stirring occasionally until mushrooms are lightly browned, about 5-7 minutes. Reduce heat to low. Add rosemary, salt, and pepper. Cook until the mushrooms are soft, about 3-4 minutes.
In a large skillet over medium heat add the nutritional yeast and flour, whisking constantly until aromatic, about 2 minutes. Reduce heat to medium. Add the oil and whisk for 30 seconds. Pour in the water and whisk vigorously until it thickens, about 1 minute. Remove the gravy from heat. Stir in the soy sauce, mustard, sriracha, black pepper and salt.
Serve warm gravy over toast with mushrooms.
Note: If the gravy thickens, it can be thinned by adding water.
*Recipe adapted from The Farm Vegetarian Cookbook