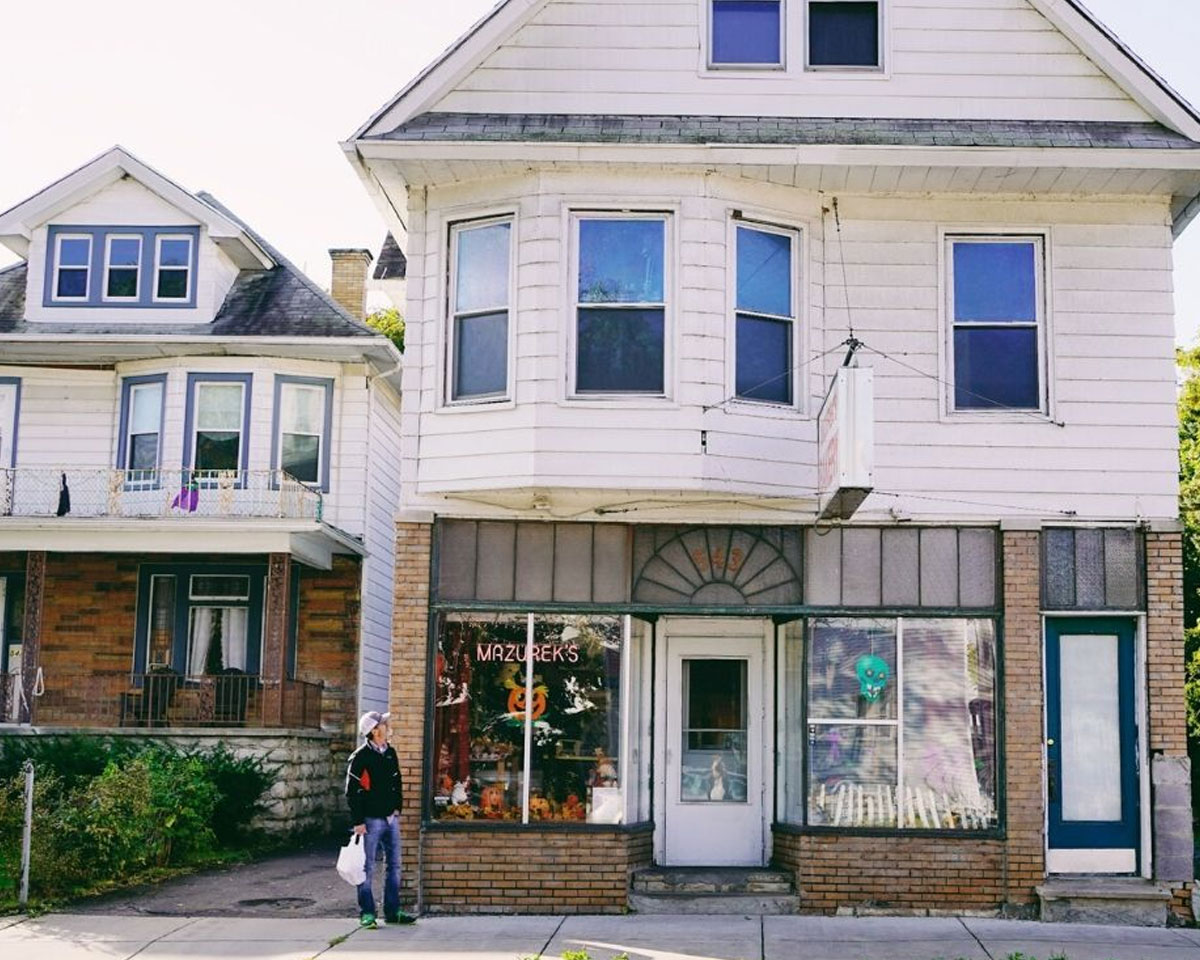 A Visit to Mazurek's Bakery with Phil and Jodi
August First on the Road is a new series where we'll follow Jodi and Phil on their adventures beyond the bakery and RV trips far from the restaurant. Grab a snack and buckle up!
We packed up the camper early in the morning so we could make it to Buffalo in time to catch the bakers at Mazurek's Bakery. Nestled on a quiet street in the First Ward neighborhood, this old school bakery has been churning out loaves of their famous rye bread for generations. As we entered the small storefront, we were greeted by a huge, genuine smile from Angie. For 41 years Angie has welcomed customers, serving them everything from doughnuts, almond crescents, cookies, and one of their other specialties: paczkis. We chatted a bit about our road trip, and that we own a bakery ourselves in Vermont. I asked if we could use their brick bread oven, which has been in operation since 1933. She happily ushered us down a narrow hallway, to a big open bake area where the owner, Ty, and his assistant were busy with the morning bake.
Mazurek's opened in 1933 when Frank and Jeanne Mazurek took over a space on the South Side Bakery (est. 1895). They quickly became a local favorite, especially for their classic rye bread, which is still made today. As the years went on, they transferred ownership to their son and daughter-in-law, who ran it until 2012. The current owners, Ty Reynolds and Nick Smith, continue to honor the original formulas developed by Frank and Jeanne.
In the back, a flour-covered Ty gave us a peek into the oven. It's huge, beautiful, rough, and gives off the energy of something with a thousand stories to tell. Standing in a spot where bleary eyed, morning bakers stood for generations struck us both with sentimentality. While it's not as user friendly or energy efficient as today's ovens, its still an important piece of history and the envy of any baker who cherishes crusty, old-world breads.
Today, Ty and Nick have expanded Mazurek's reach to serve the next generation of bread lovers. Pretzels made by hand include their spelt grain and make their way to brew pubs throughout the region. A weekly farmer's market hot seller is their Golden Jalapeno Cheddar Bread. It's easy to see that Ty and Nick's youthful energy and creativity will deliver a new family of delicious baked goods to the people of Buffalo.
What to Get
Mazurek's is still the go-to place for classics like Christmas cookies, Babka, Sweet Rolls, German Apple Squares, and Apple Pie.
Where to Find Them
If you're ever in Buffalo, be sure to give them a visit. Mazurek's Bakery is located at 543 South Park Ave., Buffalo, NY and is open Monday through Saturday. Hours vary.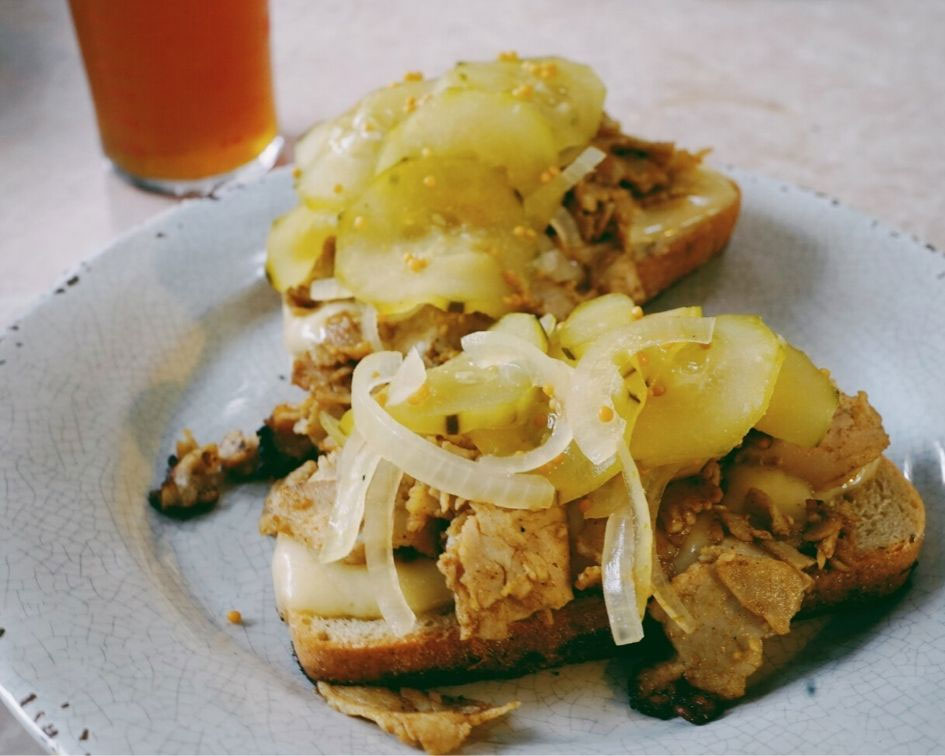 Cumin Crusted Turkey Sandwich
Ingredients
Quick Mustard Pickles
1

large cucumber,

peeled and sliced ¼"

1

small yellow onion,

peeled and thinly sliced

¾

cups

white or cider vinegar

¾

cups

water

½

cup

sugar

1

tbsp

yellow mustard seeds

12

whole peppercorns

1

large garlic clove,

smashed with side of knife

¼

tsp

ground black pepper

1

tbsp

yellow mustard powder

1

tsp

salt
Cumin Crusted Turkey
½

pound

sliced deli smoked turkey

2

tbsp

olive oil,

divided

1

tsp

ground cumin

1

tbsp

cumin seeds

1/2

tsp

salt
Sandwich
1

tbsp

butter

2

slices

rye bread

2

slices

cheese
Instructions
To make the quick mustard pickles, heat vinegar, water, sugar, spices and garlic in a medium saucepan over medium-high heat until boiling.

Add the cucumbers and onion. Reduce the heat to low and simmer for 3-4 minutes. Transfer the pickles to a bowl to cool.

Meanwhile, make the cumin crusted turkey. Roll the turkey into a long roll and cut into 1" strips.

Separate pieces and place into a large bowl. Add 1 tbsp of the olive oil and stir gently to coat.

Sprinkle ground and whole cumin and salt on turkey. Toss gently to coat.

Heat the remaining olive oil in a saute pan over medium-high heat. Add the seasoned turkey and cook, stirring occasionally, for approximately 3-4 minutes, or until heated thoroughly. Do not allow seeds to burn.

To construct the sandwich, heat a large saute pan over medium-high heat. Add the butter and lay the rye bread side by side. Top each slice of bread with a slice of cheese, ¼ cup of turkey, and pickles. Heat for about a minute, then cover the pan and cook for an additional 2-3 minutes, or until the bread is toasted and the cheese is melted.