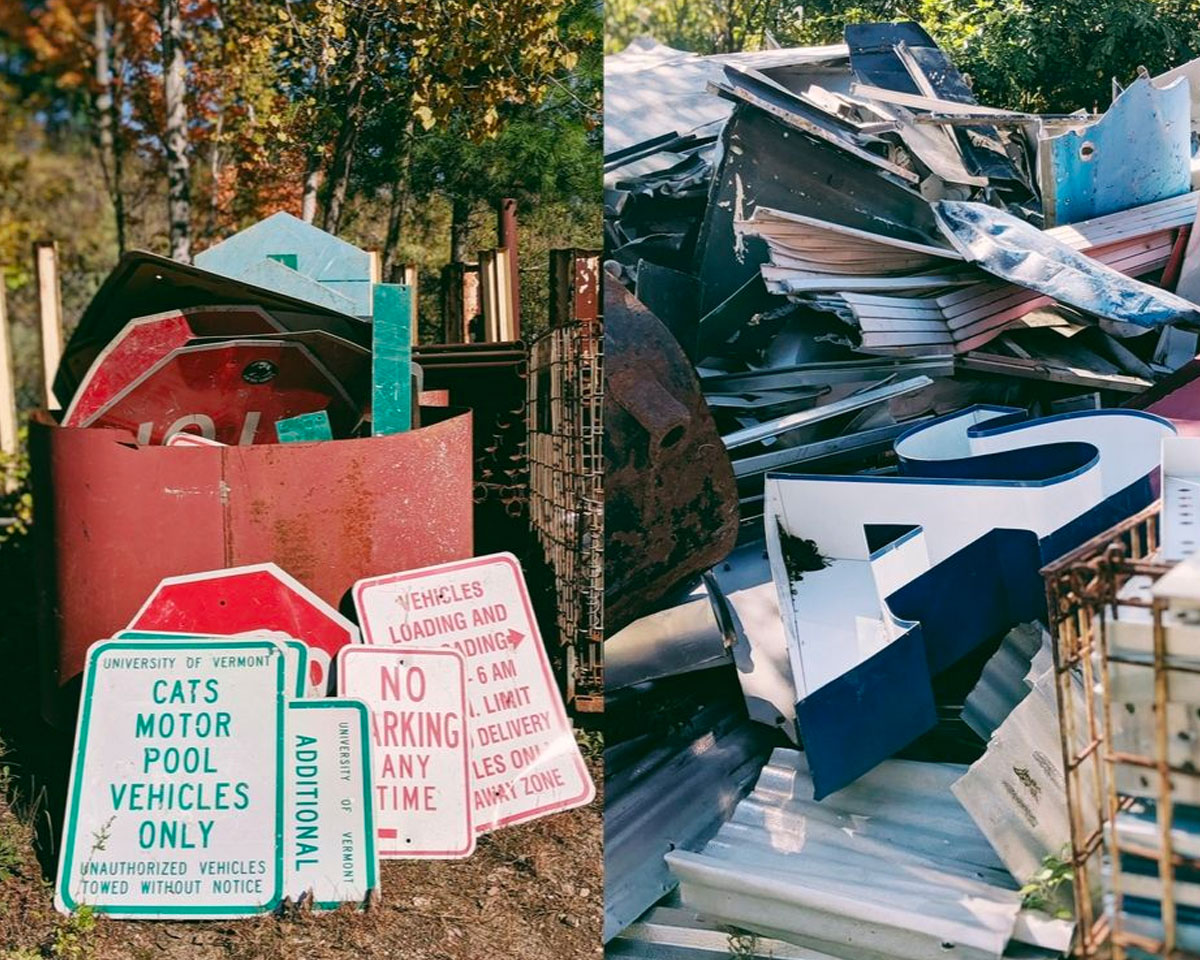 An Insider's Guide to Burlington, Vermont For Under $10
Burlington, Vermont is not exactly a metropolis, but it is a bustling city. The streets buzz with bikes as soon as the sun peeks over the mountains. The espresso machines across town fire up well before that. There are even a few honks here and there. Vermont's biggest city spoils its residents with mountainous views, coffee shops, lip-licking local food and treasure troves of vintage stores. It's been noted as a burgeoning hub for food and culture, and with that comes bus loads of seasonal visitors.
So, after gawking at our famous foliage, what's next on the itinerary? Well, once you've trekked down Church St. Jodi has a day's worth (or two) of recommendations for a wallet-friendly tour of our town. And if there's anyone who knows where to go, it's Jodi. She's called Burlington home since 1991 and in that time has accrued a list of under-the-radar gems.
Here she'll share them for both visitors and long-time residents looking to explore their city through the eyes of a neighbor.
Folks who know me are well aware that I'm very frugal, and always up for a fun adventure. While Burlington is known for its downtown shopping district, historic museums, and beautiful lake, there are plenty of other fun local experiences to explore. Here are some of my favorite things to do in Burlington, most of which can be enjoyed for under $10.
Where To Shop For Gifts (And Yourself)
SHALOM SHUK
188 North Prospect St., Sunday-Friday 11am-3:50pm
Tucked behind the Ohavi Zedek synagogue, you'll find a nice selection of kids and adult clothing, books, shoes, and small kitchen wares. Donations here are always top-notch, and you're almost guaranteed to find a great bargain on higher end clothes. Most recent find? Lands End cashmere turtleneck sweater for $5. They support many local organizations, but are best known for providing thousands of dollars worth of free clothing vouchers to new Americans in our community.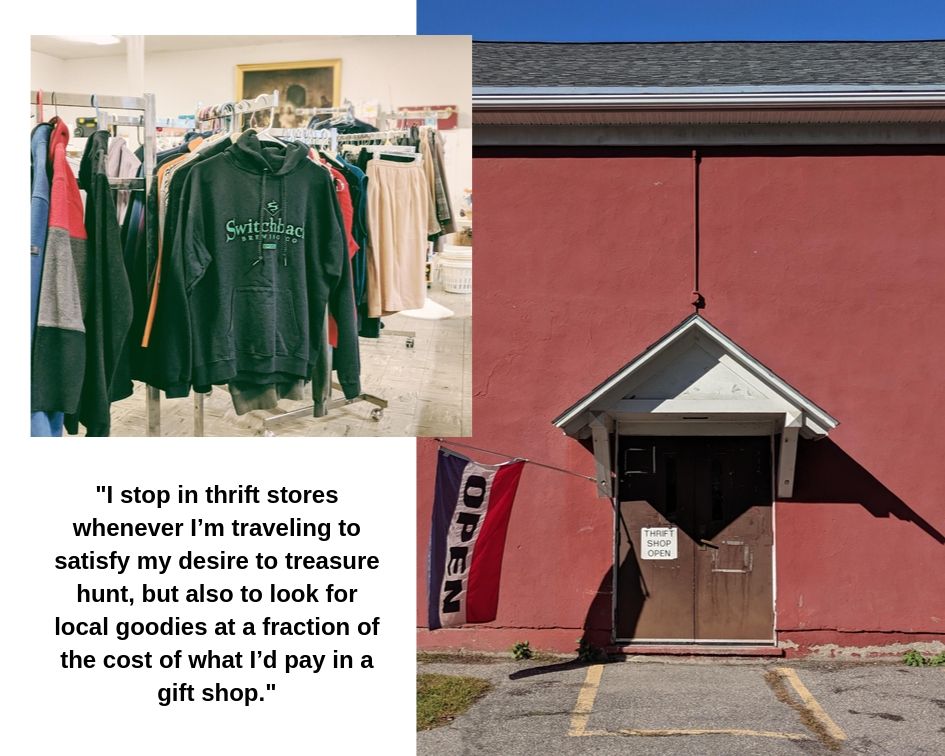 FIRST UNITED METHODIST CHURCH
21 Buell St., at the corner of North Winooski, Mondays 10-1:30
This gem of a store is only open on Mondays from 10-1:30. On my last trip there, I spied vintage ski vests for $3, a Switchback hoodie for $2, and a ton of great books for under a dollar. Sales benefit local organizations that serve children, including Sara Holbrook Center, King St Center, and JUMP.
ST. ANTHONY'S THRIFT STORE
305 Flynn Ave., Tuesdays 10-1, Thursdays 10-4, Second Saturday of each month 10-2
I never leave empty handed when I pop into St. Anthony's. They always have racks full of everything from the basics (Moleskin Planner Pen Holder, $1) to the quirky (vintage NASCAR hat, $2). Last time provided a huge bin full of Burlington themed 'dad hats'!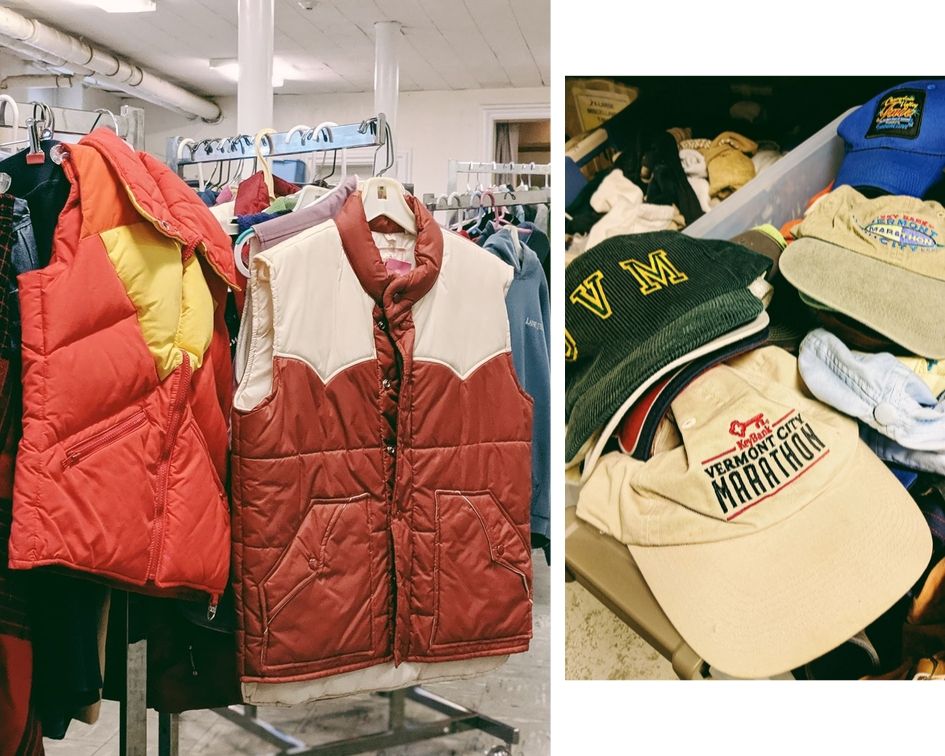 QUEEN CITY STEEL
35 Intervale Rd., Monday-Friday 8-4
Queen City Steel is a literal treasure trove of quirky items. Need a stop sign? A cast iron frying pan? How about a 3 bay sink? This metal recycling center is open to the public for both buying and selling. Just pull in, drive over to the right side, park and carefully look around. The manufacturer of the tap handles for Magic Hat disposes of their cast-offs here, and they make great garden trellises. My last visit exposed numerous piles of Burlington and UVM signs. Get yourself a banged-up stop sign for only $10! Just grab what you want and take it over to the office. The guys inside will eyeball your find and name a price. Feel free to haggle a bit.
INTERVALE
The Intervale, just down the road from QCS, is also a wonderful place to walk, run or bike. With over 800 acres of natural beauty and trails that wiggle through organic farms as well as by the Winooski River, you can easily spend an entire afternoon doing some serious forest bathing. One little quirk that not many folks know about is that it used to be a local dumping ground. If you look closely you may find areas that are full of old bottles and pottery. With some careful digging (with a stick!), treasures from decades ago can be uncovered. Many pieces are broken, but you can still find some intact if you look. It's a great spot if you're into mosaic, as pottery shards are pretty easy to find. Best spot? Directly across the lane from the first parking area after the McNeil Generating Plant. Be careful and wear heavy shoes.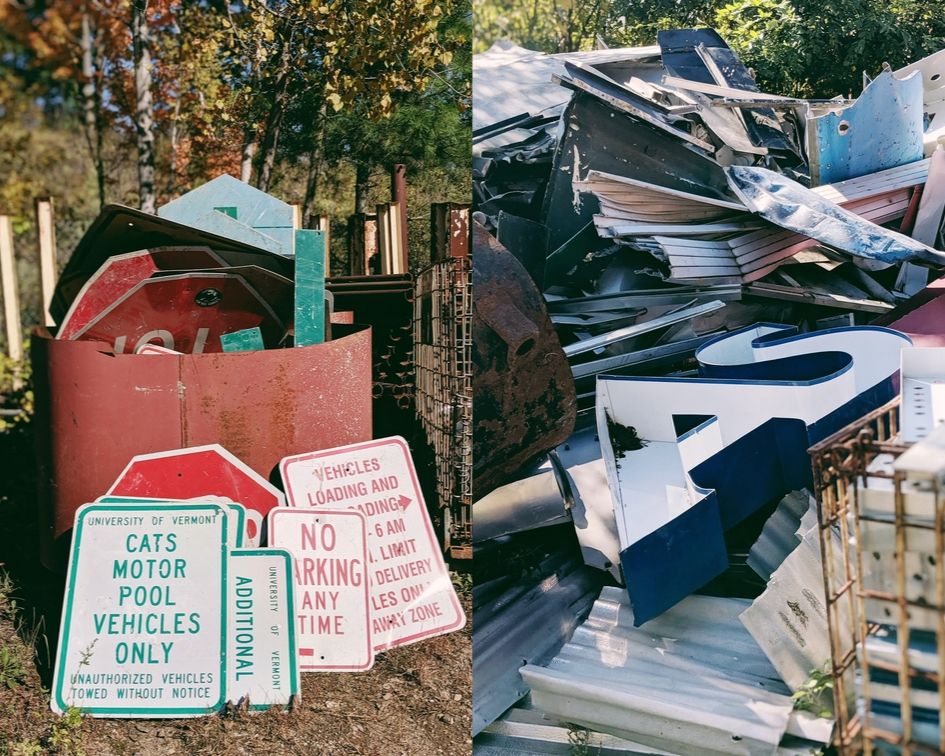 Where to Eat Well Without Breaking the Bank
GARDEN ATRIUM and HARVEST CAFE
UVM Medical Center, 111 Colchester Ave.
The cafes at the UVM Medical Center Hospital are some of the best bargains in town. It's actually worth the trip if you're looking for really cheap eats with a focus on local, organic, and sustainable ingredients. For $4.25 I scored an individual flatbread pizza with local veggie toppings, and for $.66, a spinach salad from the salad bar. With free WiFi and plenty of space, it's a great little getaway. Insider tip: If you park in the garage, the Harvest Cafe is a long walk! Go to the Atrium Cafe instead. Or, to park close to the Harvest Cafe, couple your visit with a stop at the Fleming Museum. Admission is only $5 and metered parking is plentiful.
CHEESE TRADERS
1186 Williston Rd., South Burlington
Best place for snacks and organic/vegetarian items? Cheese Traders on Williston Road! For years this has been my go-to for discount groceries. They sell out of date, dented, or just quirky items that don't get shelf space in grocery stores – for an absolute song. There's also a huge selection of cheese, olives, hot sauce, and a basement full of bargain wine. Insider tip: keep an eye open for their big sales, where the discounts are even deeper!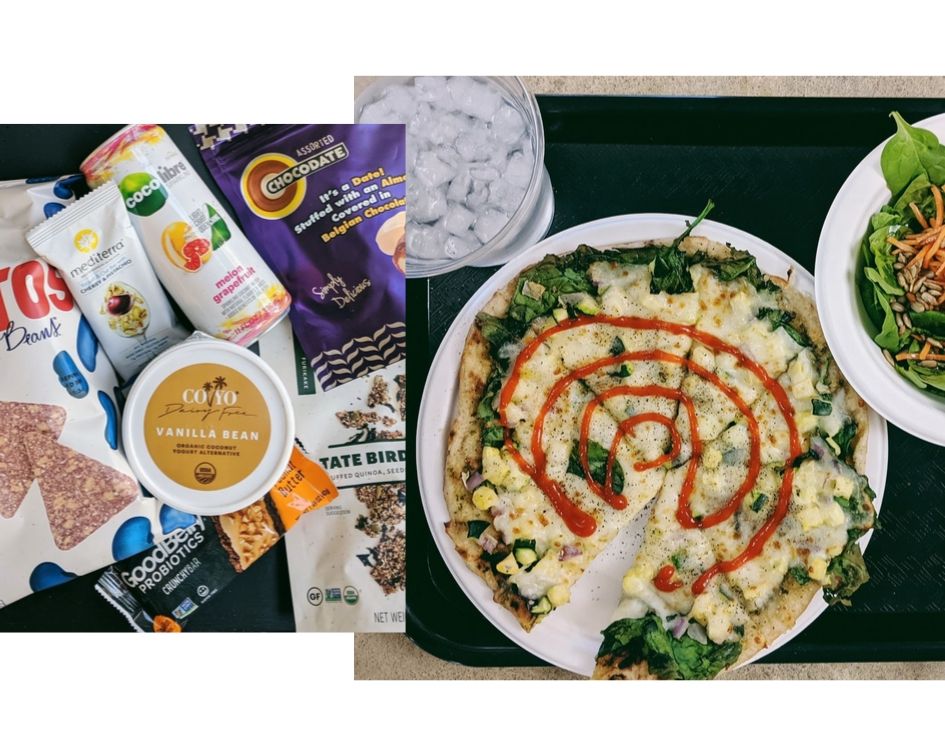 Where To Bring Friends and Make New Friends
BRIO COFFEE WORKS
266 Pine St., Roastery: M-F 8-5, Sat 10-5, Tasting Bar: M-F 8:30-3, Sat 10-4
Burlington is definitely a 'chit-chat with strangers' kind of town. A reason why I love it so much. One of my favorite places to visit is the beautiful Brio Coffee Works on Pine Street. The owners Nate and Magda are passionate about coffee, and also very sweet and funny. Pull up a stool, get a single origin roast, and enjoy the conversation while surrounded by an active, working roastery.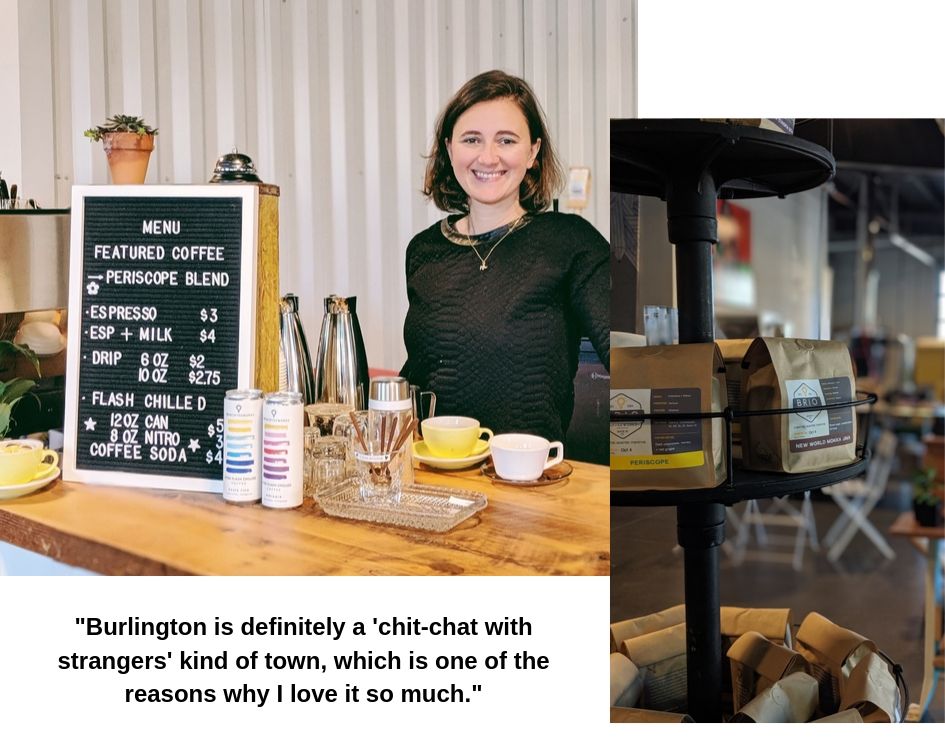 ST. JOHN'S CLUB
9 Central Ave., Friday 8:30pm-close
Burlington has a lot of options for karaoke, but in my opinion the most supportive place is at the St. John's Club, a private club on the lake that's open to the public on Friday nights. Shy about singing? Don't be here. It's one of the few karaoke nights where I've seen the dance floor packed with people dancing to regular old folks belting out disco tunes! The crowd is friendly, the drinks are very cheap (most are under $5) and the views from this lake side tavern are unparalleled.
Local tip: The drink line can be long, so grab two while you're up there. Water is self-serve. You have to order food at the bar, and then come up to the kitchen door to get it when it's ready.
Where To Become One With Nature
CENTENNIAL WOODS
Park at 179 Catamount Drive, in the metered spots. Entrance is across the street.
Ask any local about walking in Centennial Woods, the 65 acre nature preserve owned by UVM, and they're bound to mention that they almost always get lost there. With a maze of trails that are perfect for running or walking, it's easy to get disoriented. But with cell phone in hand, it's kind of fun to follow the blue dot on your phone to wiggle your way out. It's a beautiful respite from the city buzz, and you'll find tall stands of pine forest, open meadows, a trickling stream, and maybe a few happy off-leash dogs with their owners.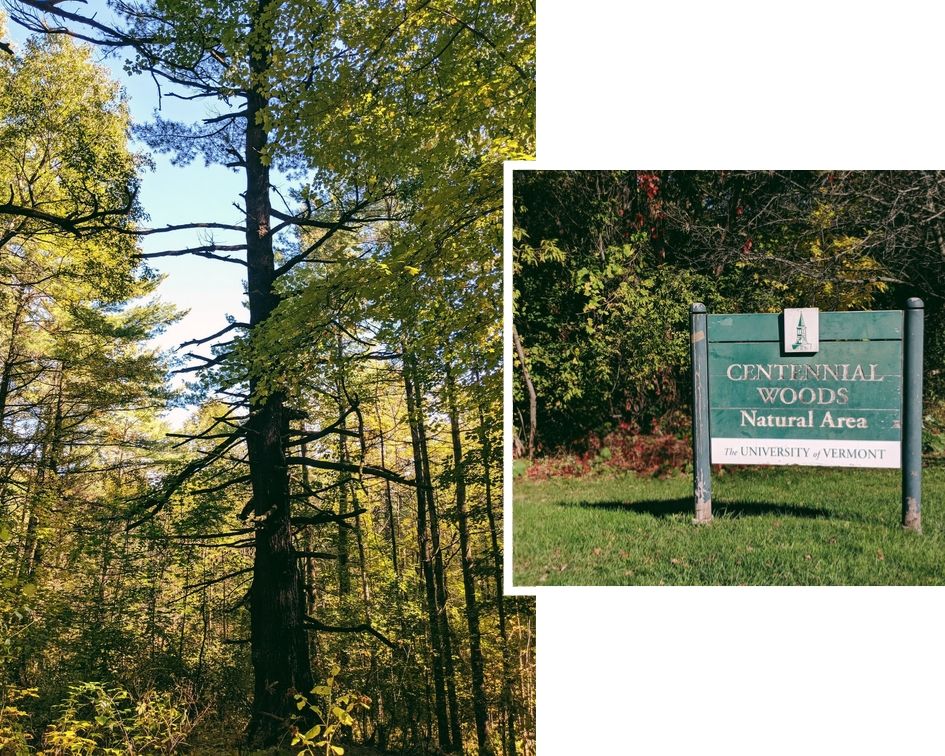 Where To Get Cultured
DISCOVER LITTLE LIBRARIES
They started popping up in Burlington a few years ago, but now they're definitely part of the fabric of our community. Little Free Libraries, which are free standing book shelves that are installed by homeowners, are places to leave a book and take a book. I know when I travel and finish my book, I like to search out sharing shelves in hostels and cafes. These tiny libraries are super cute, and each one definitely has its own character.
RUN AROUND TOWN
If you're a runner, you're in luck in Burlington. We have a fantastic running community, and there are numerous opportunities throughout the week to connect with other runners. In fact, if you're into trails, it's possible to piece together a 13 mile off-road run, by sticking with the bike path, Ethan Allen Park, the Intervale, Salmon Hole and Centennial Woods.
Here are some local running groups:
Long Trail Running Club
– Early morning trail runs on Tuesdays and Wednesdays at Red Rocks Park, plus other special events like an upcoming Halloween run.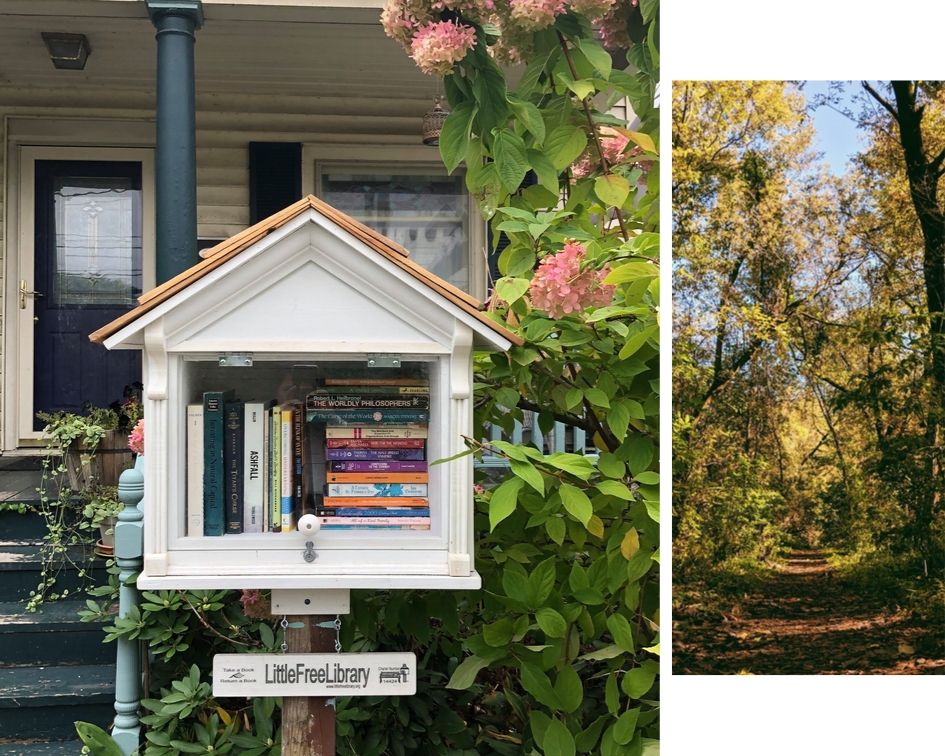 SUPPORT A SCHOOL SHOW
Burlington's school theater scene is on point! The local elementary and middle schools partner with Very Merry Theatre, an amazing non-profit children's theater program, so our kids are exposed to this fine art from Kindergarten on. Expect to be blown away by the quality of the production of shows, not just at the schools but also at Very Merry, as they put on their own shows as well. Admission is always by donation, so everyone can attend. But please open your wallet, as this shoe string production is always appreciative of contributions!  Burlington High School's fall musical is always worth a visit. The director, Leesa Guay-Timpson (known by everyone as Frau) has produced shows at BHS for over 30 years. The orchestra pit is always full of a mix of students and semi-professional local musicians, the scenery is spectacular, and the talent is outstanding. Fall shows tend to run in the month of November, one-acts are in the spring.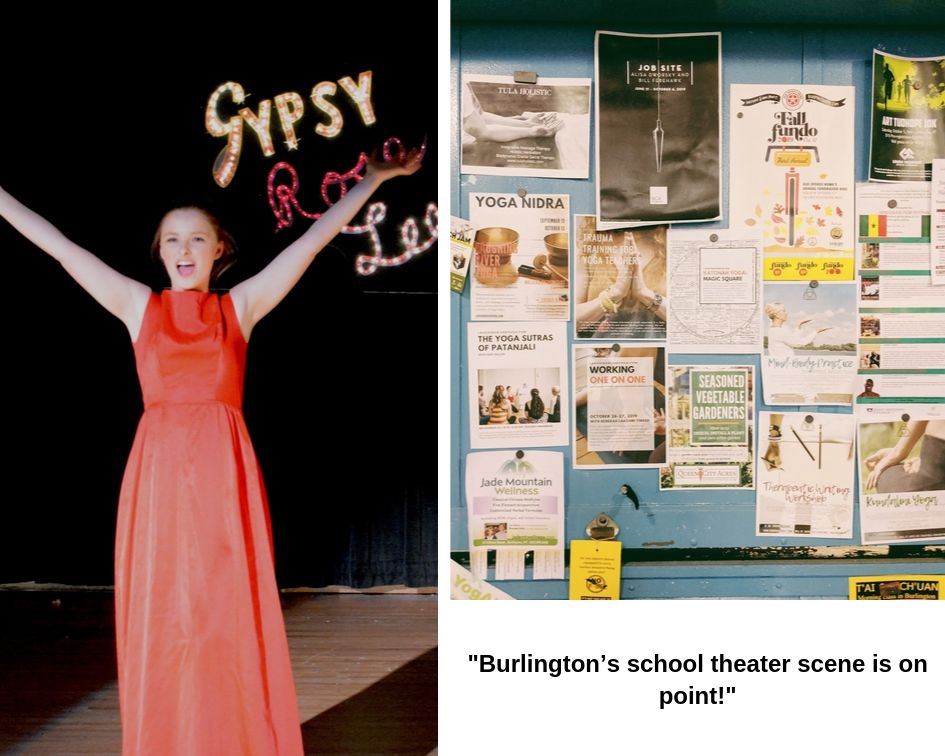 VOLUNTEER
Burlington has a big heart. We support our neighbors, and if you're here in town and want to show your appreciation, there are many opportunities to do so. The United Way is a big supporter of local non profits, so a quick visit to their website will show you opportunities that you can jump on *today*.  Also, you can take a look online for wishlists posted by local places like Sara Holbrook Center, Spectrum Youth and Family Services, and King Street Center, do some shopping, and set them up with much needed and much appreciated supplies.
United Way of Northwest Vermont
DO SOME YOGA
Burlingtonians love their yoga. So much so that you can find classes at just about any time of the day, in any style that you prefer. Yoga studios love their community members as well, so many offer sliding scale or by-donation classes. In fact, Sangha Studios offers this up for every class, as part of their philosophy that yoga should be accessible to all. All studios have mats and props available. Just show up 10 – 15 minutes before class to have time to settle in.
Enjoy your tour of Burlington! We're always happy to welcome you here at August First.