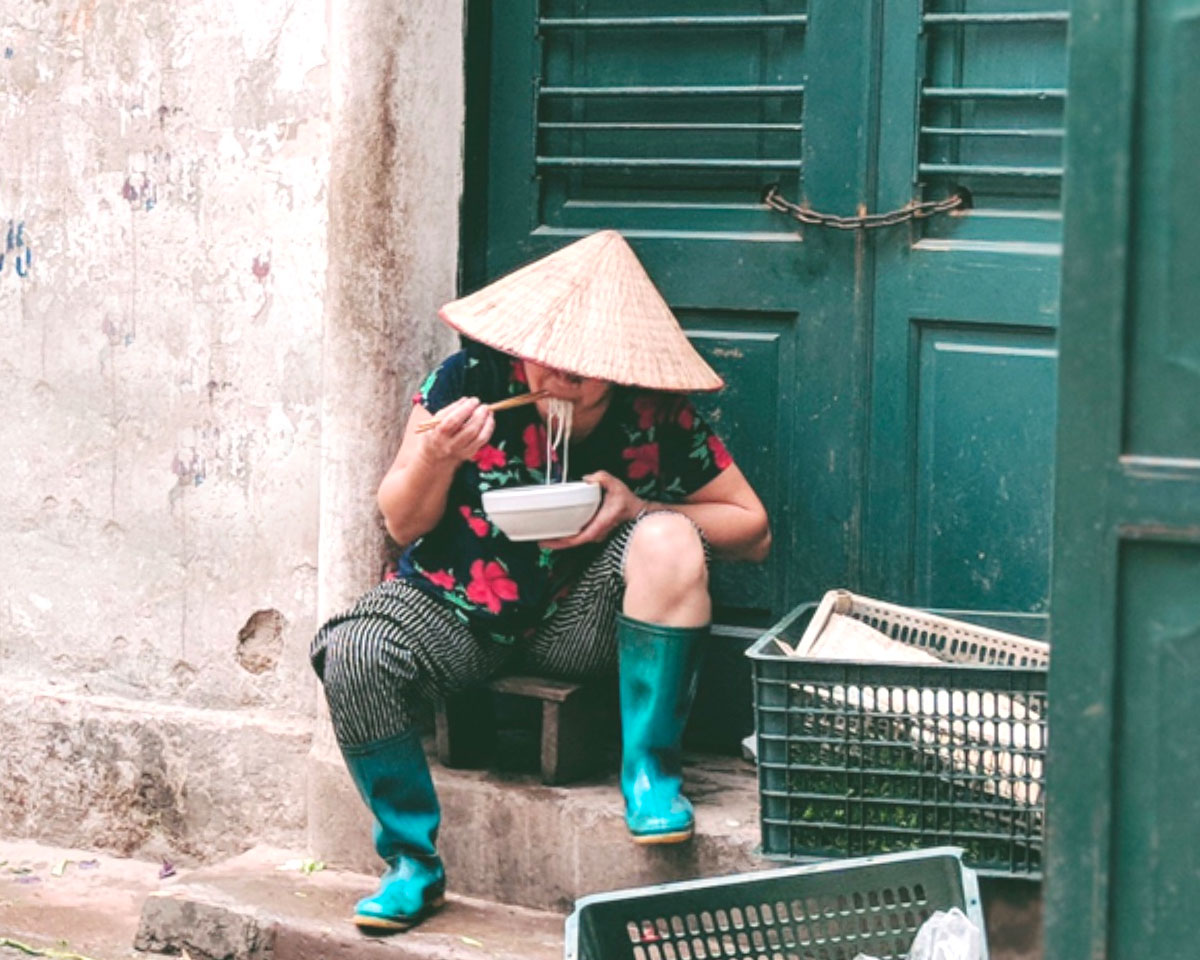 August First on the Road: Breakfast in Vietnam
August First on the Road is a new series where we'll follow Jodi and Phil on their adventures beyond the bakery and RV trips far from the restaurant. Grab a snack and buckle up!
"Have you seen Jodi's breakfast?" Phil, with an egg sandwich in hand, asks me in the August First kitchen. "I just saw what looks like fish rice pudding," I say, enveloped in the familiar scent of sizzling bacon. Jodi isn't having bacon and eggs for breakfast. Not in Vietnam. Not when you eat oily fish over rice before 8AM.
"Pho is probably the most widely recognized breakfast food that people think of in Vietnam, and rightfully so. It's satisfying, complex in flavor, and can be found almost everywhere," Jodi explains to us in an e-mail sent from the other side of the world. But Jodi is venturing away from the typical. "I decided to seek out other breakfast dishes on this trip," she declares. And then our inboxes light up with pictures of noodles, fish cakes, and heaps of peanuts. A bacon, egg, and cheese on a maple biscuit? Noticeably absent.
You might not find "FISH RICE!" on August First's menu anytime soon, but maybe – just maybe – we'll have a breakfast special honoring Jodi's mornings in Vietnam.
I'll let Jodi tell you all about her Vietnamese breakfasts below: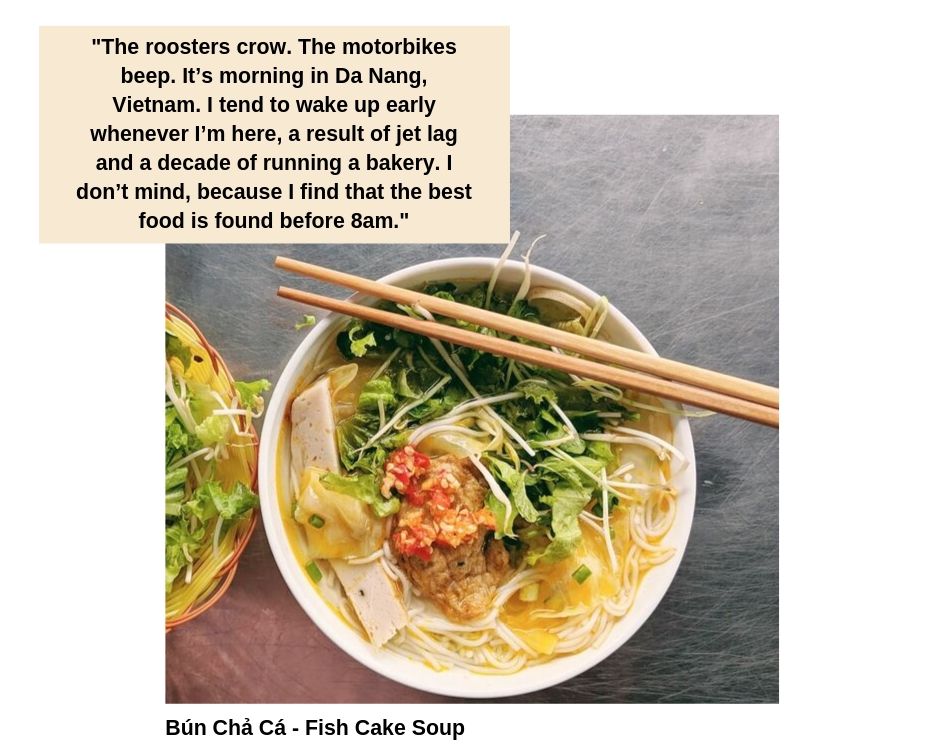 Just around the corner from my apartment sits a small cafe where they serve steaming bowls of this common fish cake soup. I saddled up to the small metal table, alongside of young working men in uniforms who were quickly slurping soup while scrolling on their phones. A bowl was placed in front of me, and the first thing I noticed was the honey aroma of the broth, which was obviously simmered for hours. The bowl was full of noodles, two different styles of fish cakes (fried and steamed), and cooked cabbage. I added fresh herbs and sprouts, and some freshly chopped hot peppers to round out the dish. The broth was silky, light and salty, the cabbage was almost buttery, and the steamed fish cakes were dotted with peppercorns. I can see why Bún Chả Cá is one of the most popular breakfast dishes in Da Nang!
*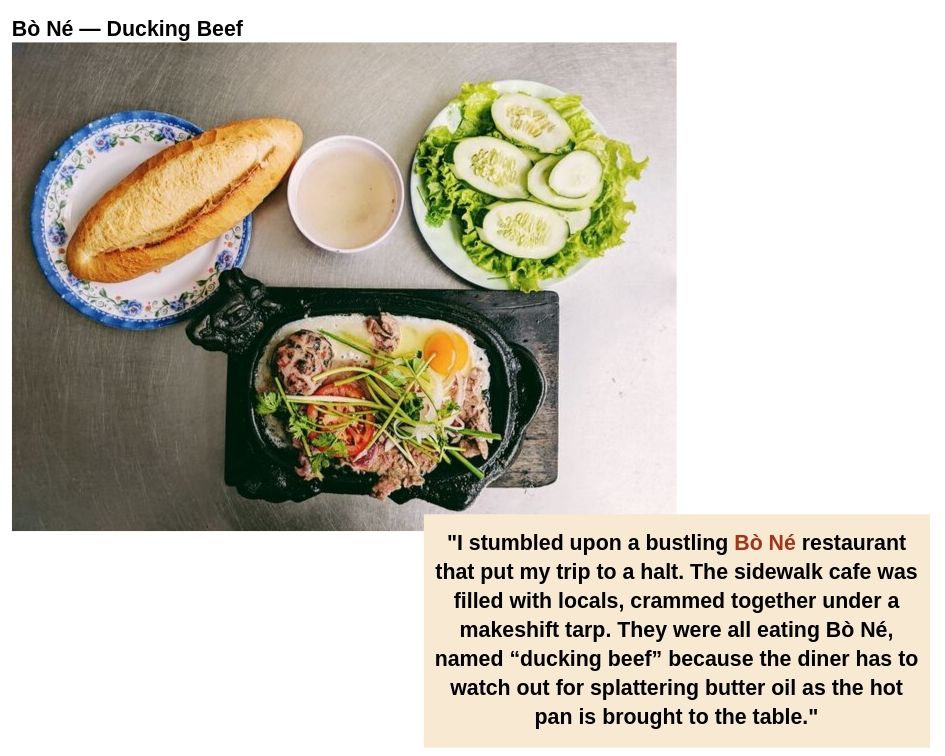 Thinly sliced beef, a sausage ball, fresh herbs and a tomato slice sat together in the cooked whites of a sunny side up egg. A freshly baked baguette and a small bowl of broth were served alongside. I peeked at the other diners to see what they did with the broth, and learned to pour it and some hot sauce over my platter so I cook soak my baguette with the egg yolk and all the juices of the meat. The dish was a delight, but what made it an even better experience was watching the hustle of the restaurant.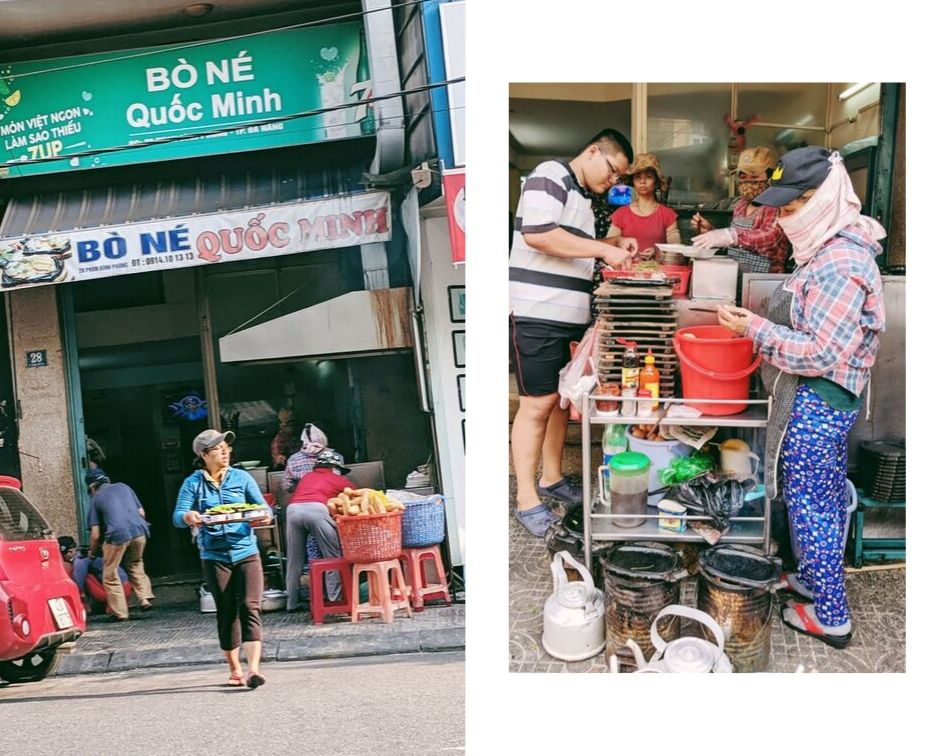 Servers had to run back and forth, avoiding traffic as they scurried hot dishes to eager diners. I was incredibly impressed by their efficiency, as everyone had a job to do, and did it very well. At August First, the bakers have to walk outside as they ferry bread and pastries to the cafe, which can be a challenge in the rain or during the winter months. At least they don't have to avoid oncoming traffic!
*
I popped into a little shop early one morning simply because I liked the look of the three women (pictured below) who were running the place. I also love Bún bò Huế.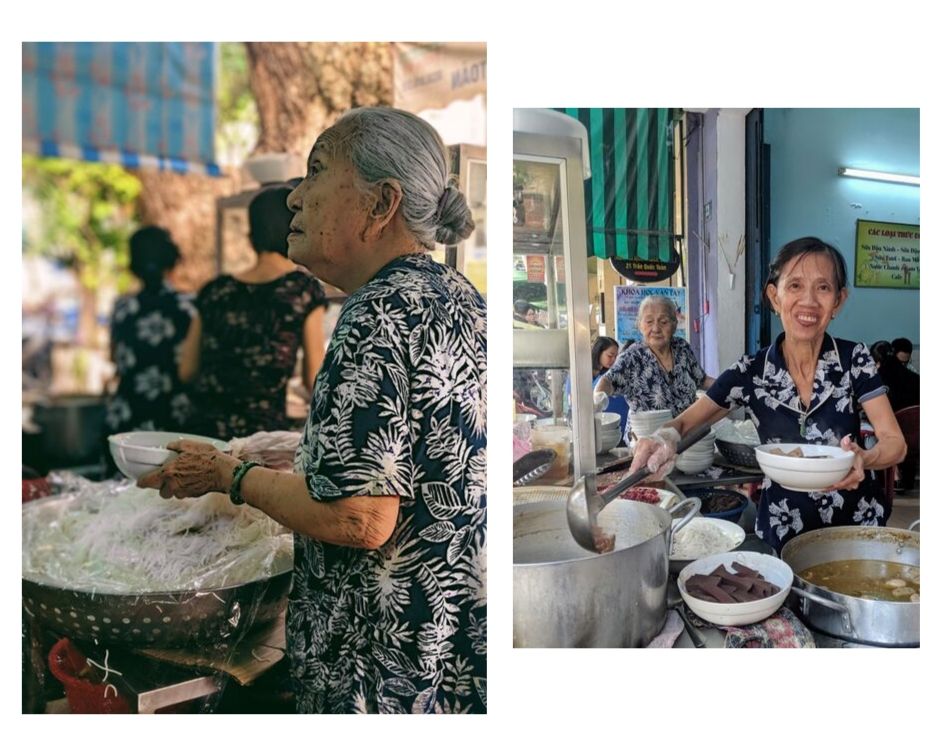 Their shop was full, and their orchestration of service was impressive. I had made a point to learn the proper way to say hello to folks in Vietnam, so I greeted them with a "Chào chị" for the ladies close to my age, and a "Chào bà" for the elder woman. They lit up and greeted me in return, and I was able to grasp that the one woman was asking me if I would like some. Always going with the flow, I gave a nod and a smile. In a blink, a steamy bowl, full of beef, meatballs and scallions was placed before me. Their broth needed very little accompaniment. It's was a rich as gravy, but as clear as the sky.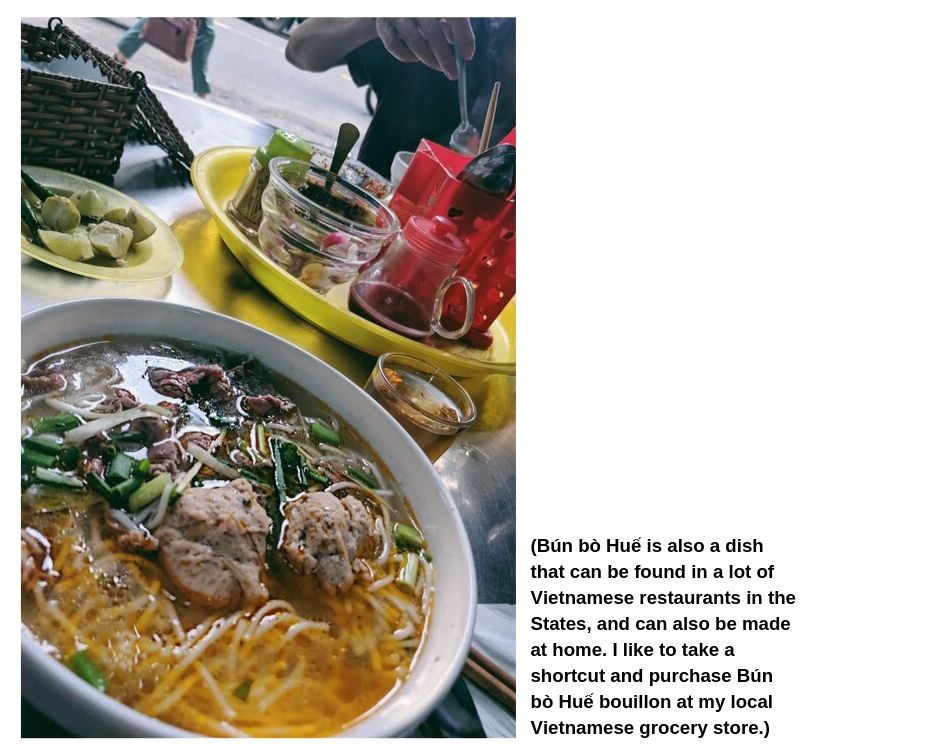 However, I noticed that they didn't include the cubes of congealed pig's blood, which is standard in this dish. Honestly, I didn't mind. I added a bit more hot pepper to my soup, which garnered a few cackles and some chatter from the ladies.
*
If you see someone on a bike, on the street or at a cart with a sign that starts with Xôi, definitely grab whatever they're making.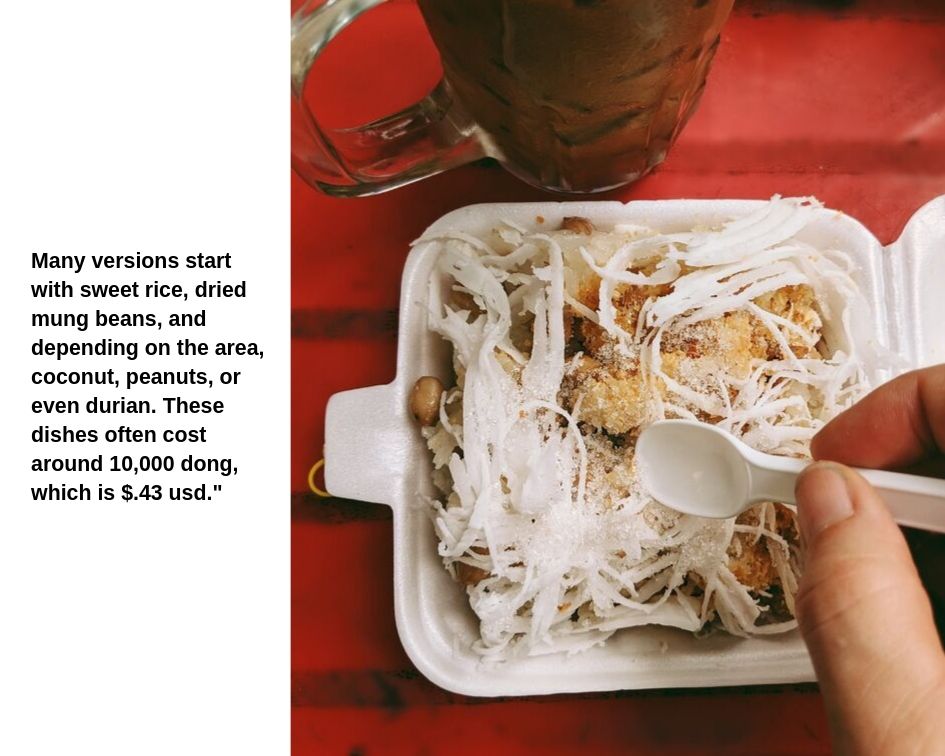 *
Bánh xèo and Bánh khọt are fried pancake-like dishes that are perfect when you're craving something a little naughty. A batter of rice flour, turmeric, coconut milk and salt is filled with pork, mung bean sprouts, and shrimp in the shell, and then are served with rice paper, fresh greens and herbs, and nước chấm for dipping. Bánh khọt is the little cousin of bánh xèo, made in a cast iron pan of 3" discs instead of in one individual pan.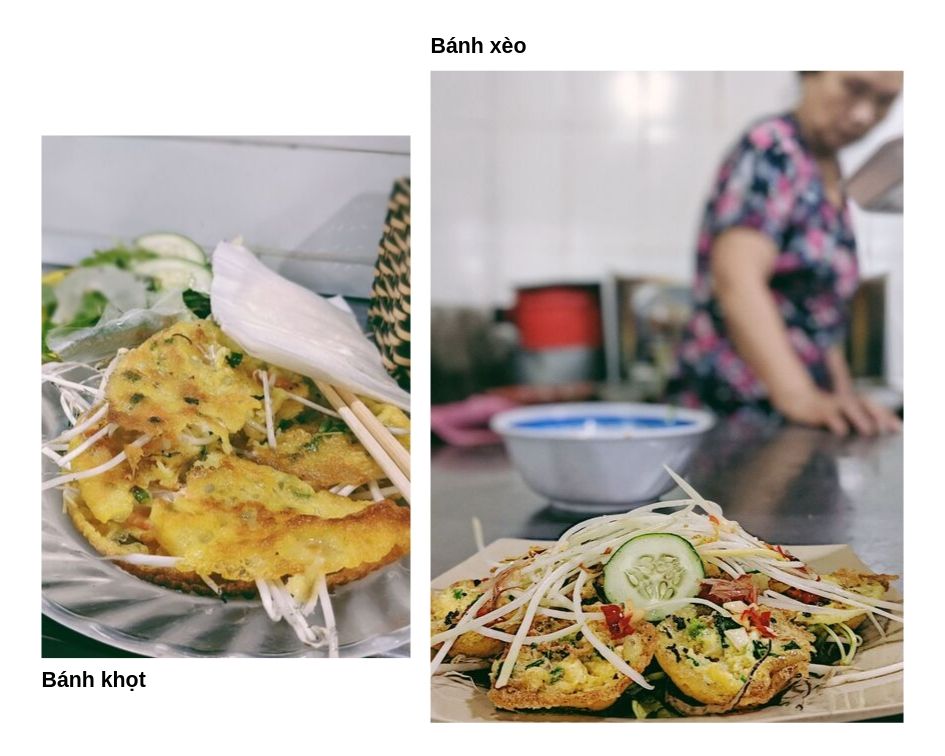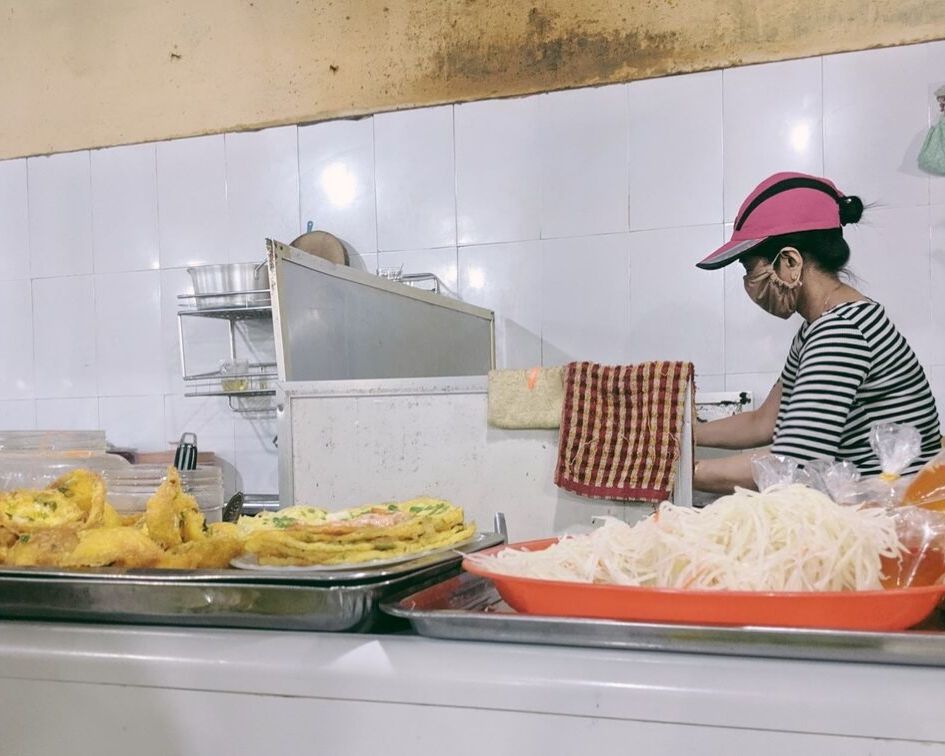 *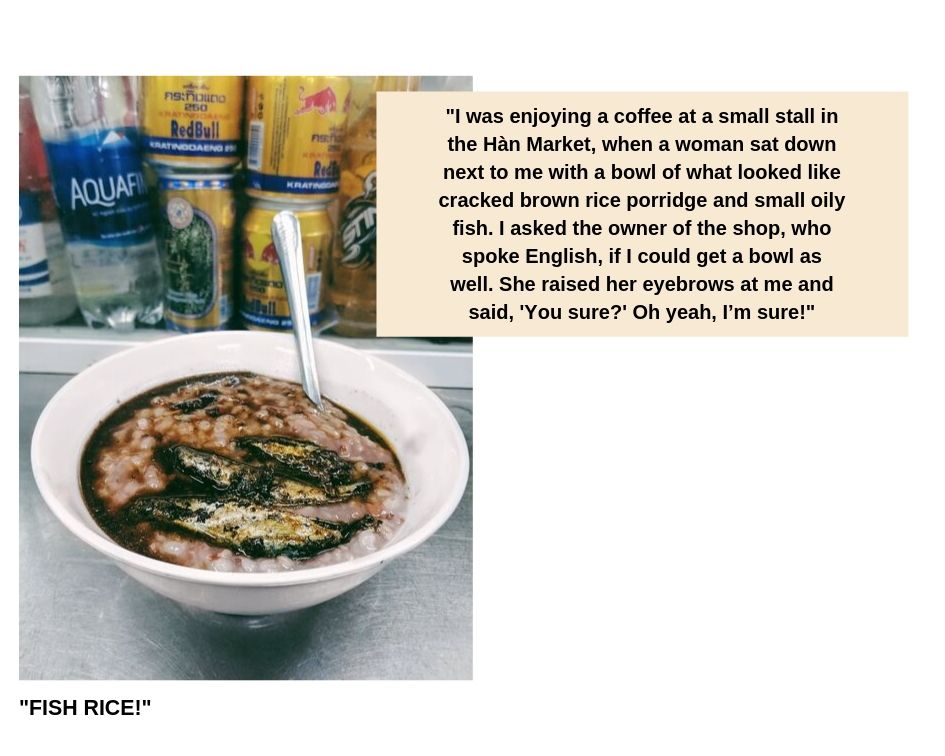 The fish was in a sweet and spicy barbecue sauce, and had been grilled to perfection. The meat was delicate, and the bones gave out with a satisfying crunch. A little extra barbecue sauce had been poured on top of the creamy porridge, which added another layer of decadence.
I asked what the meal was called, thinking it might be called Cháo cá (porridge/congee with fish), but she looked at me like I was silly, and yelled "FISH RICE!" Despite searching high and low on the internet, I couldn't find anything else like it. I highly recommend that you seek this out if you're ever in the Hàn Market. Look for the Minh Ty Coffee Stall, and ask for "Fish Rice!"
*
Ok. Hands down, this dish is a show stopper. If you're ever in central Vietnam, please promise me you'll seek it out.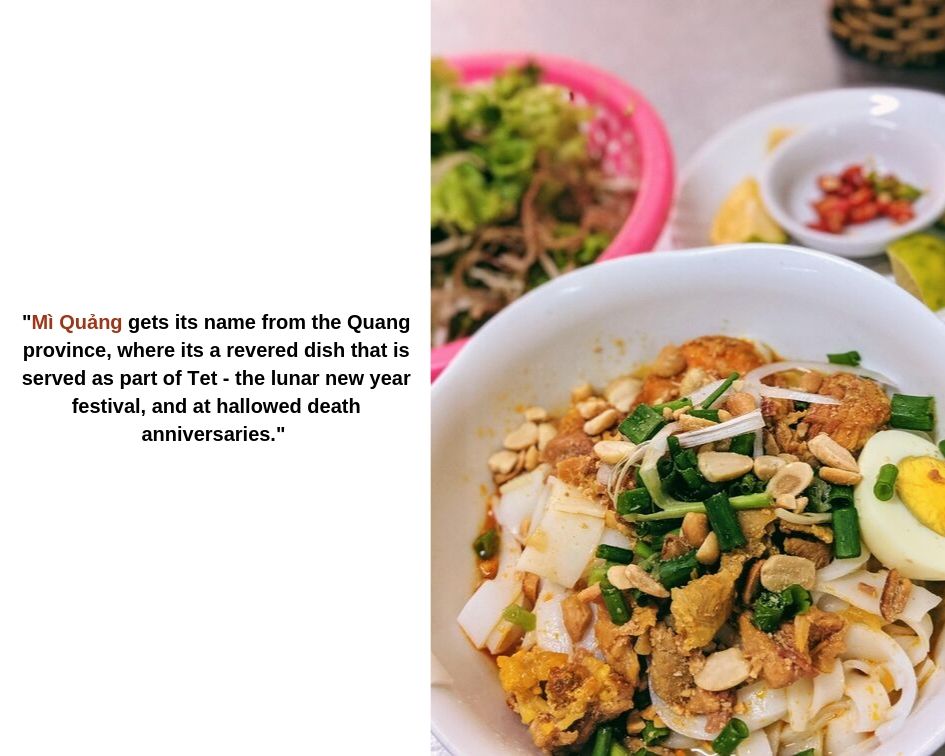 First, the broth is made with choice meat that has been simmered for hours with shallots, cracked black pepper, garlic, turmeric and fish sauce. The hand crafted rice noodles are wide and flat, which in my opinion are so much more satisfying to eat than thin pho noodles. The dish is assembled by pouring just a bit of broth over the bowl of noddles, then it's topped with meat (varies by restaurant), shrimp, a hard cooked egg, fresh tomato, banana flower strips, and toasted peanuts. Then of course, fresh herbs, lime and hot pepper from the table. The flavors and textures combine beautifully, and I couldn't help to make audible moans of pleasure as I ate every last bite!